French Doors London
French doors have a very distinctive design: they comprise (in most cases) two door leaves – each with an extensive glazed area and decorative muntin bars. The glass panes can be made of either transparent or milk glass. Timber French doors gained popularity in the Renaissance era. Back then, symmetry and proportion were of utmost importance. Throughout the ages, French doors have taken many forms, which is why today they come in an endless variety of designs. If what you're looking for are versatile doors that would suit almost any interior design style, consider ordering timber French doors. In London, they are the height of fashion, and you can see them right, left, and centre. Other than being fashionable, they also have a number of other assets.
What are the advantages of French doors?
All things considered, French doors have a long list of advantages. They are very chic, and at the same time usually have excellent thermal and acoustic properties. They facilitate ventilation and can be used as an elegant, yet practical, division between a dining or living room and the kitchen. Contrary to appearances, French doors are often just as sturdy and secure as any other external doors. Fitted with solid anti-burglary locks and toughened glass panes, they will effectively protect you from intruders – as well as extreme temperatures during the winter and summer. What are the other benefits of installing French doors?
Addition to the aesthetic appeal of the room
This advantage is actually twofold. Firstly, wooden French doors are simply elegant. Thanks to their unique design and seemingly delicate construction, they add to the overall visual appeal of the room. Depending on their specific layout and frame colour, French doors can go well with a contemporary, traditional, minimalist, rustic, or eclectic interior – but they are most often used with a French-country or shabby-chic decor. Secondly, the fair-sized glass panes are of great importance. Unlike other doors, French doors let in a considerable amount of natural light, brightening the entire interior and making it appear larger than it actually is.
Possibility of customisation
'French doors' is a very general term. After all, there are wooden, uPVC, and aluminium French doors, each with their own set of characteristic features. Then, there are also different French door designs. You can order, for instance, doors with glazed areas divided into an even number of equally sized, rectangular panes, or doors with one large glass pane on each door leaf, with no muntin bars. You can also choose between standard, milk or decorative glass, and have your new doors fitted with silver, gold, or bronze handles to put on the finishing touch. By making all these decisions, you go through the process of fully customising your French doors. In places such as London, which are full of listed buildings and conservation areas, this is an even more valuable asset.
Perfect for conservation areas
Since there are almost thirty conservation areas in the City of London, it's safe to assume that many residents of the UK capital need bespoke doors. In most cases, you won't get permission to install new windows or doors unless they are a faithful copy of the original ones and match the overall architectural style of the building. French doors have been vastly popular in Europe since their invention in the 17th century. That's why there are so many period houses with French doors. London is peppered with them, which is one of the reasons for the increased demand for bespoke French doors today. Luckily, many London-based door manufacturers are able to satisfy this growing demand. To receive a product that will fulfil your needs, order French doors at Sash Factory.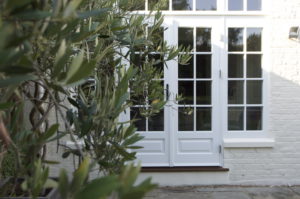 French doors – which building material is the best?
Similarly to other doors and windows, French doors are available in a variety of building materials. Each of them has a separate list of pros and cons, which is why you shouldn't base your final decision just on the way they look. Instead, the choice should depend on the aspects of your living conditions you would like to improve – and to some extent also on the surroundings of your house. For instance, if you live nearby a busy crossroads, you'll need French doors with outstanding acoustic properties to reduce the outside noise. To help you make a more informed decision, we briefly discuss three of the most common materials: uPVC, timber, and aluminium.
uPVC French doors
Doors produced from uPVC have a couple of considerable advantages, including attractive price, low maintenance and security. They are also a good fire retardant. The production of plastic doors is more automated – and, therefore, cheaper – than timber doors, which is why the manufacturers can offer a lower price. The key asset of uPVC French doors is low maintenance. Unlike wood, plastic doesn't require regular sanding, repainting, or any other maintenance work. On the other hand, it's less durable and weather-resistant than timber, and more prone to mechanical damage. uPVC French doors will be a good choice if you have a low budget or are unable to maintain them regularly. Keep in mind, however, that doors are a crucial part of the building and, therefore, it's not worth economising on them.
Aluminium French doors
Because of their industrial design, aluminium doors are a favourite choice for modern-, contemporary-, and loft-style interiors. This is, however, not the biggest advantage of aluminium French doors. They are extremely sturdy and durable – even more so than wooden doors. Similarly to plastic doors, they don't require carrying out maintenance work, and at the same time are more weather-resistant, which makes them an attractive alternative. What's more, aluminium French doors have outstanding security properties, meaning they are really difficult to breach. Nonetheless, there are also drawbacks to aluminium French doors. London can be a rather rainy city, so it's worth mentioning that aluminium doors easily and noticeably stain from water. Aluminium doors are also more costly than the plastic ones.
Wooden French doors
The disadvantages of wooden doors include higher prices and the need to regularly carry out maintenance works, such as painting or sanding. The list of benefits, however, is much longer. Wooden French doors are secure, durable, and environment-friendly. Most importantly, they also have outstanding thermal and acoustic properties, which translates into lower heating costs and better quality of life. If constant noise from the outside is distracting you from work or bothering you at night, not allowing you to fall sound asleep, replace your current external doors with wooden French doors. London will have never seemed more peaceful and quiet.
Besides that, timber doors are perfect for architecturally diverse cities such as London. Since wood is easy to work with, timber doors can be customised to a large extent. Once you figure out what your preferred door design is – whether you must comply with conservation area regulations or are given free rein – you can be sure that finding a manufacturer to bring it into effect will be no problem. Regardless of whether you are looking for a modern or Victorian-style model, you can order timber French doors. London is home to numerous timber window and door producers and distributors. At Sash Factory, we will gladly guide you through the process of selecting the perfect wooden doors.
Timber French doors – cost and lead time
Sash Factory is a company created by a team of highly qualified professionals with a true passion for woodwork. We offer a wide range of premium-quality products, including beautiful, ergonomic, and energy-efficient timber French doors. All of our doors are made to measure especially for you. To find out what the exact cost of your project would be, please reach out to us and request an individual quote. Our staff will be more than happy to answer all of your questions and clear up any doubts. The lead time for our projects is usually between 6 and 20 weeks, depending on the level of complexity.