Tilt and Turn Windows
Tilt and turn windows prevail in virtually all of Europe, including the British Isles. To the untutored eye, they might resemble traditional casement windows, as they can also be swung open on hinges placed to one side of a sash. Instead of outwards, however, they swing inwards, which does require more space inside the room, but at the same time has some clear advantages.
The main difference, though, lies not in the direction of sash movement, but in the addition of the second opening mode. Tilt and turn windows can be either pulled open like a door or just tilted, providing adequate ventilation without causing excessive heat loss.
With such a double functionality, these windows are something else. It doesn't come as a surprise that so many people are choosing tilt and turn windows. London, Madrid, Berlin – the entire Europe tilts and turns. This window type first originated in Germany, in the second half of the 20th century.
In comparison with traditional window styles popular in the UK, such as sash or casement windows, they are a relatively new invention. Technological advancement enabled mass production of tilt and turn window hardware and lead to an upsurge in their popularity. Except for the undoubted practicality, modern tilt and turn windows have a long list of other advantages.
What are the assets of tilt and turn windows?
This window type has for decades been a popular choice for many European developers and homeowners. The reason for such high demand was (and still is to this day) mainly the two-in-one feature – but not only that! Tilt and turn windows cost a reasonable amount of money and yet are one of the most versatile and practical window types on the market.
They also don't seem to have any serious disadvantages – even the inward opening, which translates into the need for more space inside the room, can be seen as a plus for a couple of reasons we'll soon discuss in more detail. When it comes to the advantages, on the other hand, the list goes on and on. What are the main assets of tilt and turn windows?
Two opening modes
The one advantage that cannot be overlooked is the practicality of two opening modes within a single window. With just a turn of the handle, you can effortlessly switch between them. How does it work? Whenever the window is closed – the sash is sitting in the frame, and the handle is pointing downwards – you can turn the handle either to the side, at a 90-degree angle, or by 180 degrees so that it points upwards. The window will then respectively swing open or tilt, creating a slight opening in the upper part. You can pick whichever setting you prefer at any given moment, with no need to adjust the hardware in any special way.
If you turn the handle to the side, the sash can be operated like a door – it is held by hinges placed to the side, and the locking pins are not blocking the movement. To switch to the tilting mode, you need to first close the window, turn the handle upwards by another 90 degrees and gently pull it towards you.
The sash will tilt inwards on the hinges placed to the bottom. This is a great option if you keep pot plants, vases, framed pictures, or other decorations on the windowsill. You will be able to air the room without having to move these objects somewhere else each time you open the window. This will prove especially useful in the case of a large tilt and turn windows.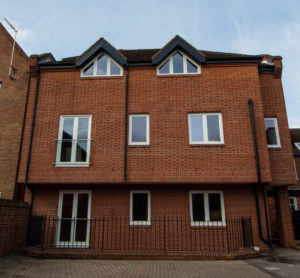 Safety
When closed, a tilt and turn window sits tightly sealed in its frame. Just like a modern casement window, it is, therefore, very hard to break down. Thanks to that, it can protect you from potential intruders or burglars. This is, however, not the only safety feature of tilt and turn windows. They are also an excellent choice for families with children.
Tilting the windows open instead of creating a normal-size opening will minimise the risk of a child leaning out and falling. Importantly, this also adds to anti-burglary protection – if you like to keep your window ajar at nighttime, this is the way to do it safely. No one could get into your house through the small opening in the upper part of the window.
Perfect fit for smaller rooms
Many flats and houses have at least one room with very limited space. In many cases, it is a bathroom or a study, which is rather unfortunate because both of these places serve their functions much better if enough natural daylight gets in. Thankfully, some windows do not require much space. Tilt and turn windows are the perfect fit for smaller rooms and hard-to-reach spots – with the easy use of the tilting mode, you will be able to let in fresh air whenever you need to. Moreover, they let in plenty of light as the glazed area is not covered by decorative muntin bars or divided into several smaller panes.
Easy cleaning
This is one of the reasons why inwards-swinging sashes are not unequivocally a drawback. This way of opening enables cleaning of the panes from inside the building, without having to lean out. Although the external side of the frame still needs to be cleaned in the same way as in the case of traditional casement windows, the sashes are far less dangerous to clean.
All you need to do is turn the handle 90 degrees to the side, open the window and there you go – it's ready to clean, and you can wipe both sides of the pane from within the building. Such ease of use and cleaning can prove to be particularly useful for seniors or persons with disabilities who have limited mobility.
Are wooden tilt and turn windows better than plastic?
Wooden tilt and turn windows are still not as popular as the uPVC ones. This is caused mainly by the price difference. Plastic windows are easier and cheaper to manufacture, which is why the producers can offer more attractive prices. However, lower costs often go hand in hand with poorer quality. uPVC windows are prone to warping, discolouring, and mechanical damage. As a material, timber is more eco-friendly, sturdy, and weatherproof.
If properly and regularly maintained, wooden tilt and turn windows retain a high level of energy efficiency, actively helping to lower your heating bills. They are also great acoustic insulants. If your old, draughty windows need to be replaced, opt for wooden tilt and turn windows. London is home to some best bespoke timber windows producers, including Sash Factory.
Bespoke tilt and turn windows – cost and lead time
At Sash Factory, we are truly passionate about woodwork, and we go to great lengths to ensure that each customer is provided with bespoke windows or doors of superior quality. Whether you want to order small or large tilt and turn windows, London is where you should seek the right manufacturer.
Sash Factory gathered an amazing team of experts, who will talk to you gladly about all available options and help you make the decision. We will provide you with premium-quality timber tilt and turn windows, which will not only be elegant, but also easy to use and clean, durable, and energy-efficient. If this is what you search for, entrust us with your tilt and turn windows commission – we guarantee that the outcome will satisfy your needs.
The product range of Sash Factory includes several windows and door types made of timber. Pine, larch, oak, meranti, and spruce wood are the available building materials. Whichever one of them you choose, the finished product is guaranteed to be solid and made-to-measure based on your ideas, taste, and technical requirements.
We produce, survey, and install each of our products ourselves. If you want to find out how much high-quality bespoke tilt and turn windows cost, London-based producers are the ones you should reach out to, as they are some of the best on the continent.
At Sash Factory, you can request an individual quote – to do that, please telephone us at 07947 356380 or 07958 734495, or send an e-mail to office@sashfactory.com. The lead time is between 6 and 20 weeks, depending on how complex the project is.